Terms of Use
Disclaimer
Mississippi College School of Law (MC Law) presents the Judicial Data Project in an effort to inform and assist the public and legal community. We strive to provide quality information of the highest fidelity and expect our users to ethically and appropriately use this information in a variety of manners. Information contained in the Judicial Data Project is compiled and maintained by MC Law, while other information may be from sources outside of MC Law and subject to those institutions copyright and privacy policies.
Each user assumes full responsibility for using the information on Mississippi College web sites, and understands and agrees that Mississippi College is not responsible or liable for any claim, loss, or damage resulting from its use by you or any user.
While we try to keep the information on this site as accurate as possible, we disclaim any warranty, express or implied, including warranties of merchantability or fitness for a particular purpose.
By choosing to use the Mississippi College Judicial Data Project web sites, you acknowledge and agree to the terms of this Disclaimer and our Terms of Use. We reserve the right to modify these terms and policies and recommend that you review them periodically.
The Mississippi College Judicial Data Project aims to provide useful legal and research information. This should not be confused with legal advice. While the editors endeavor to have each portion of this site be accurate and complete, Mississippi College does not warrant that the information is complete or accurate. Mississippi College disclaims all liability to any person for any loss caused by errors or omissions in this collection of information.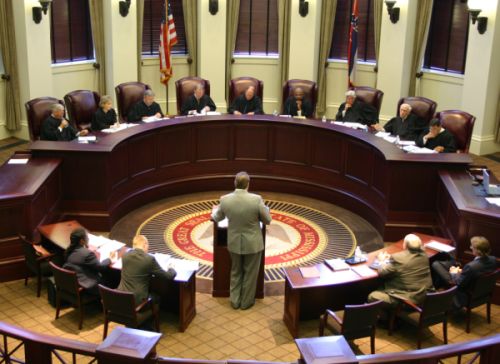 Copyright Policy
Copyright 1994 – 2012 Mississippi College, 200 South Capitol Street, Clinton, Mississippi, 39058 U.S.A.

The Mississippi College Web site (www.mc.edu) is an official publication of the University. Unless otherwise indicated, all text, images, logos, and photographs appearing on the homepage or subsequent official pages linked to it are copyrighted and should not be reproduced without written permission from the Office of Public Relations.

The document to which this notice is attached is protected by copyright owned in whole or in principal part by Mississippi College. You may download the document for reference and research purposes only.

Distribution and/or alteration by not-for-profit research or educational institutions for their local use is permitted as long as this notice is kept intact and attached to the document. Any other distribution of copies of the document or any altered version thereof is expressly prohibited without prior written consent of the University.

For permission requests, licensing proposals, questions, or further information, please contact the Office of the Public Relations at 601.925.3262.

Approved by Mississippi College President's Council, May 2000.
For more information on U.S. copyright law and the DMCA, consult the Web site of the U.S. Copyright Office.


DMCA Notification Agent
In accordance with the Digital Millennium Copyright Act ("DMCA"), Pub. L. 105-304, Mississippi College has designated an agent to receive notification of alleged copyright infringement occurring on Web pages or computer servers in the mc.edu domain. If you believe that your copyrighted work is being infringed on a Mississippi College site, please notify our designated agent for such copyright notices:
Dr. Glenn Wiggins
Professor of Computer Science
gwiggins@mc.edu
Phone: 601.925.3467
Fax: 601.925.3918
U.S. Mail:
Box 4004
Clinton, MS 39058
Contents of Notice
The DMCA requires that all notices of alleged copyright infringement be in writing. For Mississippi College to act on your notice, you must be authorized to enforce the copyrights that you allege have been infringed. When informing:
Identify the copyrighted work that allegedly has been infringed. If multiple copyrighted works at a single online site are involved, please provide a representative list of such works on that site.
Describe the material that is claimed to be infringing and provide sufficient information to permit Mississippi College to locate that material.
Provide your contact information, including an address, telephone number, and, if available, an e-mail address.
Certify or include a statement that you have a good faith belief that the use of the copyright-protected material in the manner complained of is not authorized by the copyright owner, the owner's agent, or law.
Certify that the information that you have provided Mississippi College is accurate. You should attest under penalty of perjury that you are authorized to enforce the copyrights that you allege have been infringed.
Include your physical or electronic signature.
The University may not be able to act on your complaint promptly or at all if you do not provide this information.

Home | Terms of Use | About the JDP | Feedback | Using JDP | MC Law Library | Mississippi Supreme Court